AI-Based Fever Screener to Detect COVID-19
JLONvisions JV300 is a AI-Based Fever Screener,it is to prevent COVID – 19 the spread of the virus and research and development of thermal Infrared body temperature screening system tools, its core characteristics is non-contact, high sensitive, flexible deployment of intelligent infrared temperature screening for alarm system, and it combines the high precision of infrared thermal imaging temperature test accurate facial recognition technology.
It can quickly detect pedestrians with abnormal body temperature and trigger alarm sounds in the scene of large flow of people (such as stations, airports, subways, supermarkets, schools, etc.). Its presence provides efficient and accurate data support for people to prevent the spread of COVID 19 virus.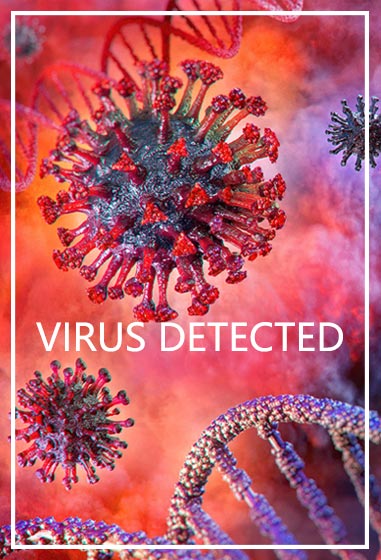 Why fever screener by JLONvision
Highly accurate temperature measurement (±0.3°C)

Temperature screening improved by 800%

Safe and contactless measurement at a 3-meter distance

Multiple targets (up to 30) detected simultaneously

Intelligent face recognition with 95% accuracy

Temperature measuring efficiency is 500 people per minute

The alarm response time is 0.5s

Easy and flexible to set up and operate

Immediate mobile/desktop alerts to make informed decisions

Monthly, weekly, and daily reports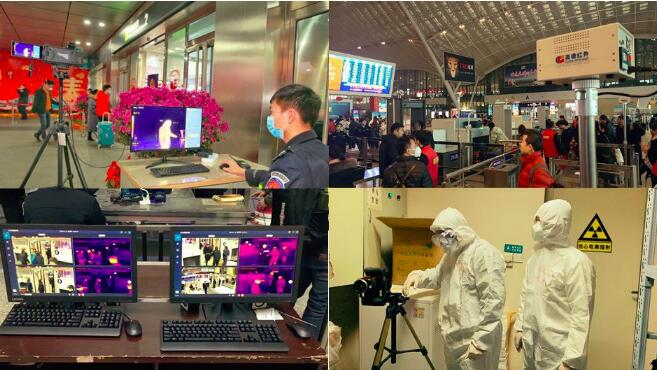 How Fever Screener Works
Integrated into your security system, the COVID-19 symptoms screening solution enables real-time fever detection in public places, such as schools, commercial buildings, airports, and transport to ensure public health.
The System's Components
Certified thermal cameras

Black body thermostat

AI for highly accurate temperature measurements

Intuitive user interface

A video/audio alerting system

Delivering advanced notifications with an attached person's photo, temperature measurements, the location of the spotted person

Cloud data storage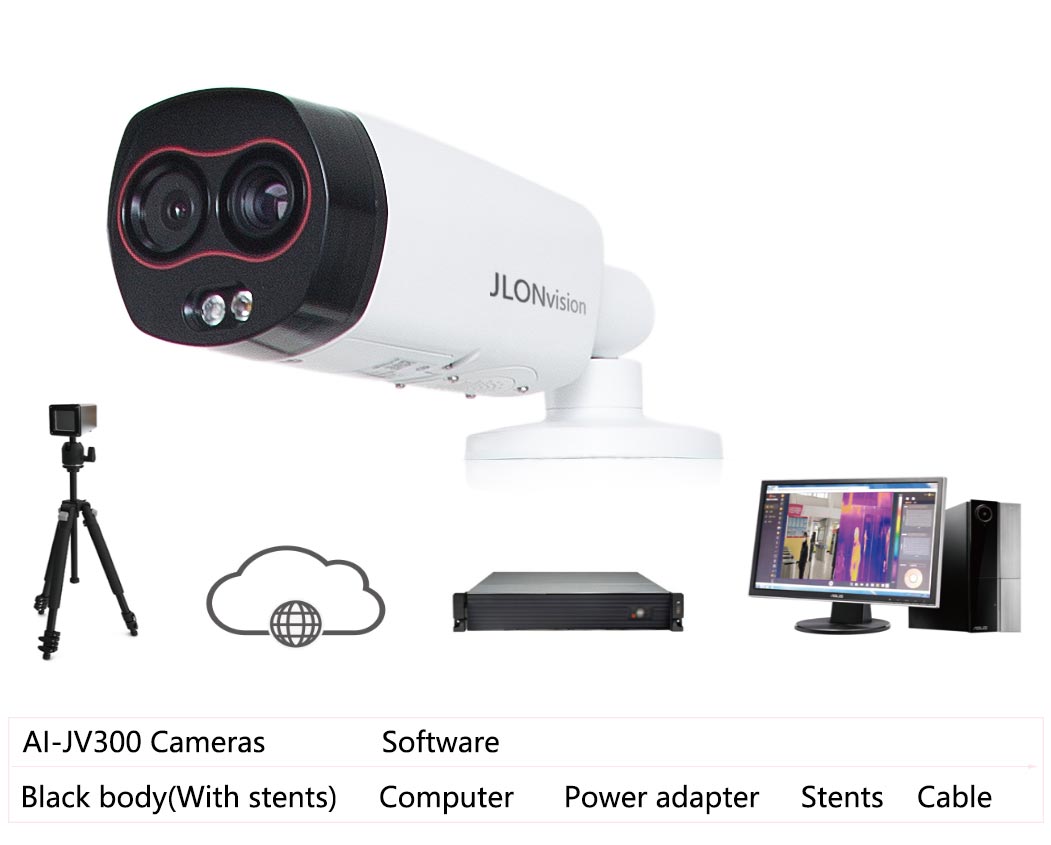 Benefits of the fever screening system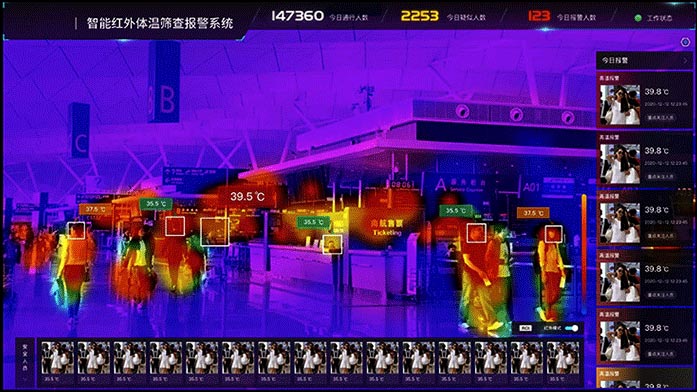 Automated and precise screening
The solution's intelligent algorithms immediately respond to high body temperatures and flag people with fever to get them medical help without delay. When fever is detected, the system automatically sends notifications to a team or an individual monitoring your working space.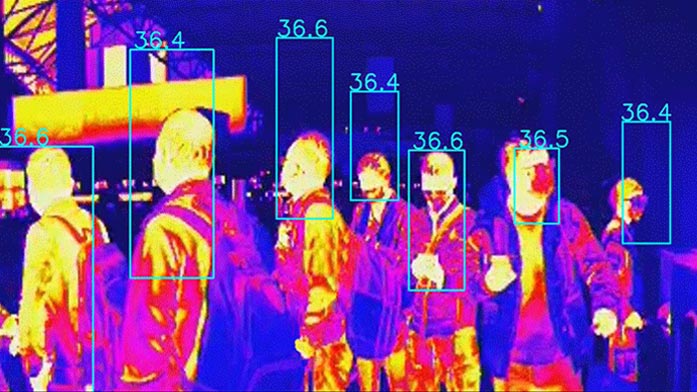 Virtual security guard
Because the fever screener is equipped with a blackbody thermostat, the system temperature can accurately reach ±0.3°C, and the artificial intelligence eye can accurately screen the population with a temperature of 37.3°C. Of course, we can also conveniently and quickly group more artificial intelligence eyes.
Industries that benefit from Fever Screener
JLONvision can help public and private organizations across industries to ensure their working environment is safe. Employ a proactive approach to make informed decisions on time to protect the community and your business processes.

Enabled face recognition
Due to lightweight and fast AI algorithms incorporated, the system allows for real-time face recognition of potentially infected individuals even if a face is covered with glasses, a mask, helmet, or other accessories.

On-demand customization
We can customize the system's functionality up to your needs by implementing such features as oxygen control, symptoms analytics, health reporting, etc.

Assessment and system implementation
Our engineers make sure your equipment is compatible with the fever detection system. Integrated smoothly, the solution operates as a subsystem to your functional devices, which makes the components efficiently work together.

Support 24/7
Our experts efficiently detect possible issues before they affect the system's performance. We also provide custom back-up solutions to make sure all the data will be replicated in case of disaster.
GUIDE IR236 IR Fever Warning System
GUIDE IR236 IR Fever Warning Systems are applied to mass fever screening in crowded public places, which help to detect people with a potential fever and may contain or limit the spread of the virus through identification of infected individuals showing fever symptoms. GUIDE IR236 combines advanced technology such as thermography human body temperature measurement algorithm and AI intelligent face recognition to make the equipment accurate and easy to use.
Thermal Imaging Temperature Screening System JV300
JV300 thermal Imaging Temperature Screening System is a dual-spectrum body temperature monitoring and alarm system developed for the outbreak of COVID-19.The system integrates high-precision infrared thermal image temperature measurement and accurate face recognition technology, which can quickly detect pedestrians with abnormal body temperature and trigger attention alarm in orderly channels of medium flow scenarios (such as communities, hospitals, enterprises, schools, supermarkets, etc.), providing strong support for the rapid spread of anti-virus.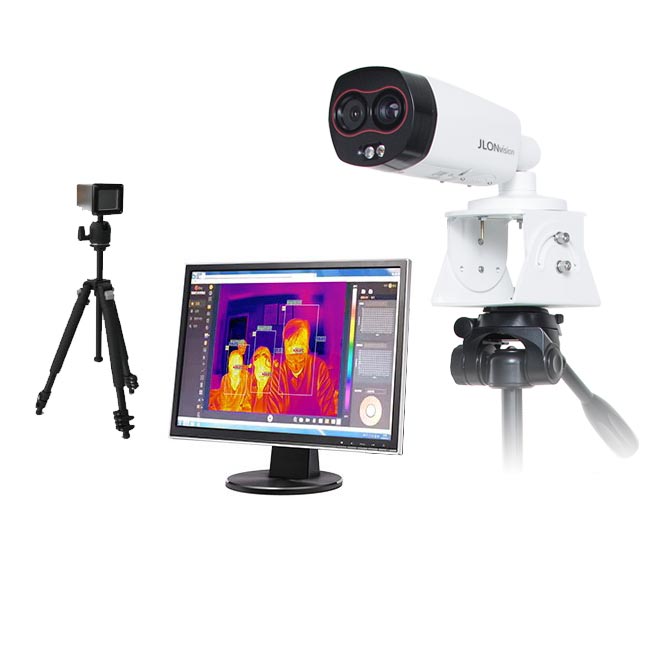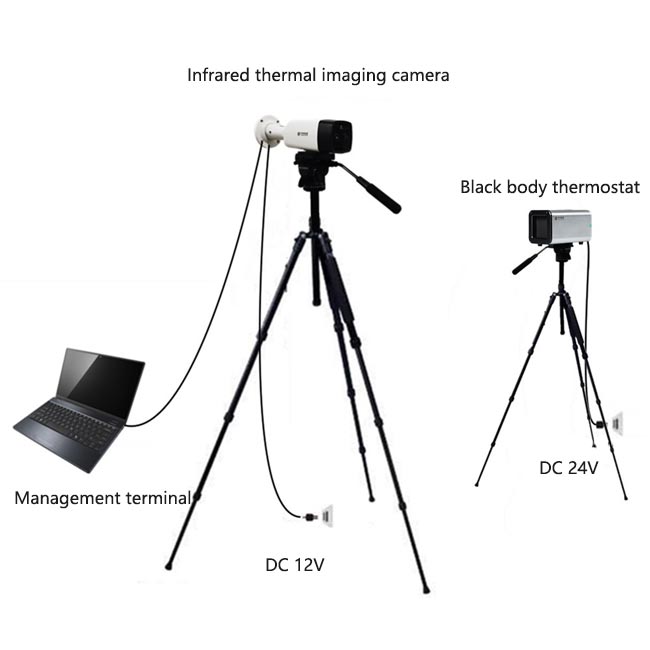 The artificial intelligence camera
The artificial intelligence camera can detect a fever caused by a COVID-19 virus. Multi-target tracking can ensure that no targets are missed. Custom warning zones and high-temperature shielding settings can avoid interference from other high-temperature objects. When detect the febrile people, it supports automatic warning, tracking and photo taking for storage which is convenient to query and classify management. JV300 Thermal Imaging Temperature Screening System is the ideal equipment for epidemic prevention in public places such as airports, stations, factories, schools, and commercial centers.
Contact us
Let's see what we can do together