Low latency streams from point A head to point B client
Along with the development of the Internet, whether for live broadcast television or A small group real-time demand is higher and higher, so we introduce A video transmission scheme based on the Internet, and live A after the dragon ENC2 codec send low latency of h. 265 live streaming, and radio and TV station and control center B receives the h. 265 live streams decoding output to the TV studio, it has the advantage of economy and flexibility, can use cable network, also can use 4 g or 5 g wireless networks, and it is not affected by the weather.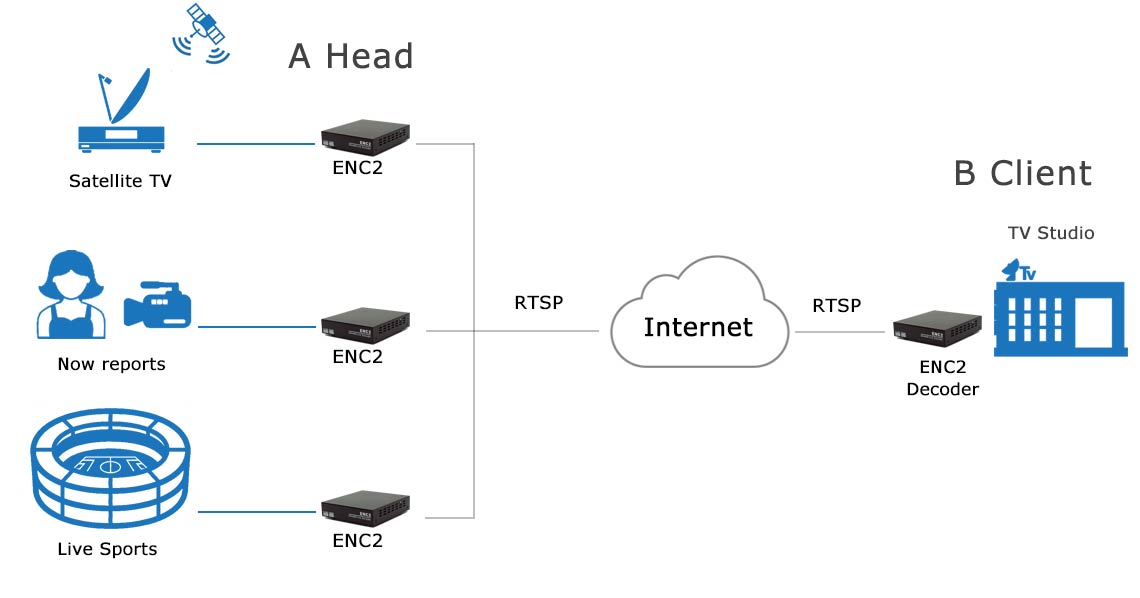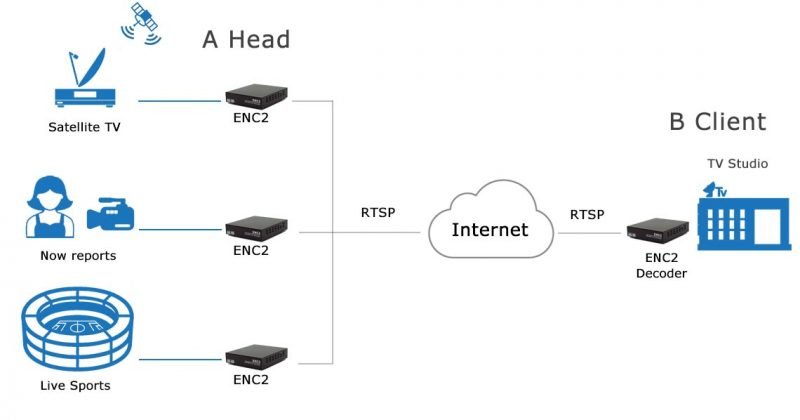 1.Traditional satellite TV broadcast program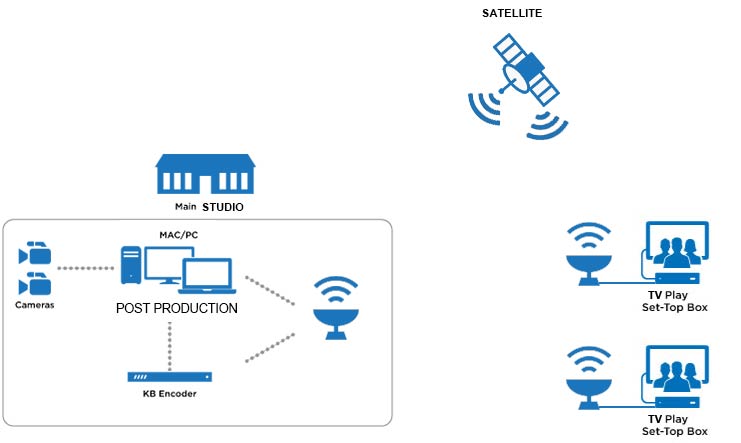 Advantage:
Client investment cost is relatively low, one-time investment.

Video and audio with hd quality, relatively stable signal (relative to dvb-t)

After-sales service is relatively easy.
Disadvantage:
The cost of building the platform is very high, and the program source audit cycle is long.
Note: (1) you need to rent a transponder, a satellite has 24 ~ 48 transponders, a transponder can broadcast about 10 sets of hd, or more than 30 sets of standard clear, the minimum requirement to rent a transponder;The coverage area is related to the beam, such as Asian beam, Australian beam, Pacific beam, spot beam and variable beam. (2) China communications satellite co., LTD. Headquarters in Beijing, they have available for television broadcast of the satellite about 10, can live only three, 92.2°, 125°ku, zhongxing 10 ku, some stars such as 87.5° zhongxing five B idle, can only be used for data transmission.Can check on their official website and contact; (3) Asia satellite limited and Asia Pacific satellite limited headquarters in Hong Kong. Now they have several satellites each, Some satellites can do direct broadcasting and have transponders for rent. (4) Due to different frequency bands, different power, different coverage areas, different bandwidth will have a big price difference, 36M to 54M can be used for direct broadcast transponders every year about $5 million to $12 million; (5) The program source needs to be approved by the company before it can be put online. The requirements are very strict.
The reception signal depends on the weather

Client side setup is complex.
Sum up: businesses and individuals have been frustrated by this approach, and we have not had the opportunity to test its feasibility.
2.IP network based live TV program
Advantage:
The amount of investment can be determined according to the number of channels and clients, such as 100 channels and 1000 clients, usd 10000USD, and usd 15000USD for 2000 clients.(it is certain that the average company or individual can afford it.)

Video and audio quality can be flexibly set according to state-supported bandwidth, or adaptive to a variety of possible bit rates.

Can provide movie on demand or TV time shift function

Low cost of client-side input.

The client side is easy to use
Disadvantage:
The quality of video and audio is determined by the client bandwidth

IP network stability and security problems, unstable network may appear jam.

The client has higher requirements on the TV interface, Such as support HDMI interface